Unleash the Power of Nutrition with Our Smoothie Bike!
Are you planning an event, hosting a health fair, or just trying to promote a fun and healthy lifestyle? Looking for something unique and engaging to kick it up a notch? At Mechatrons, we've got you covered!
We're thrilled to offer the Mechatrons Smoothie Bike for rent – a dynamic and sustainable way to promote healthy living, eco-friendliness, and community engagement. This innovative machine brings a whole new level of excitement to the creation of delicious, nutritious smoothies.
Our Mechatrons Smoothie Bike combines the best of health, fitness, and sustainability. Pedal your way to a healthier lifestyle, blending your own smoothie in just a couple of minutes. It's an engaging and interactive way to make nutrition fun, as it showcases the power of human energy.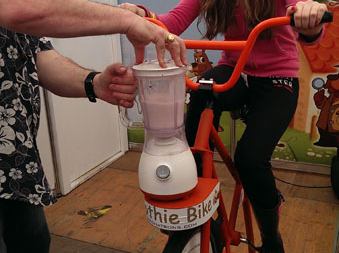 Why Hire Our Smoothie Bike?
Interactive Fun: The Smoothie Bike offers an interactive and fun experience that's sure to draw a crowd, making it perfect for events, parties, fairs, or team-building activities.
Promotes Health and Fitness: The Smoothie Bike encourages physical activity and nutrition, blending a delicious smoothie while you pedal.
Environmentally Friendly: Our Smoothie Bike shows the power of renewable human energy in a fun, tangible way.
Easy to Use: The bike is incredibly user-friendly. Just add your favorite fruits, hop on, and pedal your way to a delicious smoothie.
Wide Appeal: It's perfect for people of all ages. Kids love the interactive aspect, and adults love the health and fitness connection.
Hiring our Smoothie Bike is a unique and creative way to add a splash of fun to your event. You just need to supply the refrigerated food supplies such as fruit, milk, yogurt, juice, etc. or whatever ingredients you like, and we will do the rest.
Let our Mechatrons Smoothie Bike be the highlight of your next event. Contact us today to find out how you can blend fun, fitness, and nutrition into an unforgettable experience. Your guests won't just be sipping on a smoothie; they'll be sipping on the joy of an unforgettable experience!
Embrace the pedal power! Book our Mechatrons Smoothie Bike today and serve up a refreshing blend of fun and health at your next event!